Topic: Python 3  Radio Buttons GUI Program using  tkinter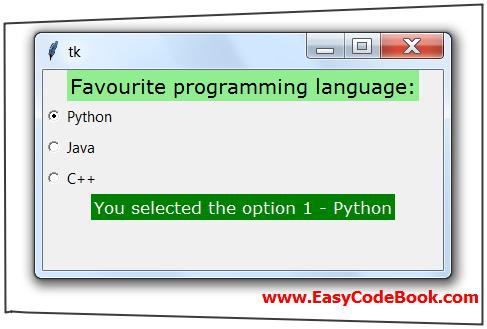 from

 

tkinter

 

import

 

*

  
  


def

 

selection

():  
   choice 

=

 

"You selected the option "

 

+

 

str

(radio

.

get())
   

if

   radio

.

get()

==

 

1

:
           choice 

=

 choice 

+

 

" - Python"


   

elif

  radio

.

get()

==

 

2

:
           choice 

=

 choice 

+

 

" - Java"


   

elif

  radio

.

get()

==

 

3

:
           choice 

=

 choice 

+

 

" - C++"


   label

.

config(text 

=

 choice)  
  
window 

=

 Tk()  
window

.

geometry(

"400x200"

)  
radio 

=

 IntVar()  
lbl 

=

 Label(text 

=

 

"Favourite programming language:"

, bg

=

'lightgreen'

,
            font

=

(

'verdana'

,

12

))  
lbl

.

pack()  
radio1 

=

 Radiobutton(window, text

=

"Python"

, variable

=

radio, value

=1

,  
                  command

=

selection)  
radio1

.

pack( anchor 

=

 W )  
  
radio2 

=

 Radiobutton(window, text

=

"Java"

, variable

=

radio, value

=2

,  
                  command

=

selection)  
radio2

.

pack( anchor 

=

 W )  
  
radio3 

=

 Radiobutton(window, text

=

"C++"

, variable

=

radio, value

=3

,  
                  command

=

selection)  
radio3

.

pack( anchor 

=

 W)  
  
label 

=

 Label(window, text

=

''

, bg

=

'green'

, fg

=

'white'

, font

=

(

'verdana'

,

10

))  
label

.

pack()  
window

.

mainloop()  

How this Python GUI program works?
Python 3 Radio Buttons
Import * from tkinter GUI module.
Define a selection function
The selection functions uses if-elif statement to select a block of statements to execute on the basis of the corresponding radio buttion selection
Create main window
set size of  main window 400 x 200
Set ttle of the main window
Create 3 radio buttons.
Create and Place a label in main window
Call the mainloop() to display the GUI and start the program.
The main window of the program will show and wait for any action by the user
As soon as the user selects a radio button, the corresponding text will be shown on the label widget.
You will also like: