Topic: Write a Python Program to Find Occurrences of Each Word in Text File Python Program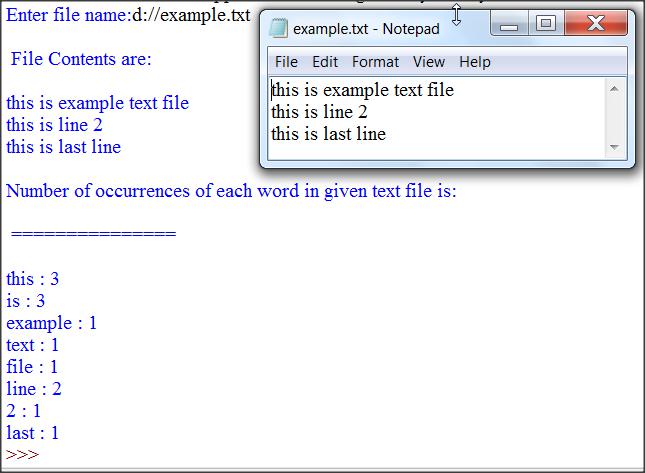 Source Code : Python Program using Text File
# Python program to count 




# number of occurences / frequencies of words in a text 




# Input filename, open it in 




# read mode. display its cntents 




# count and display number of  occurrences of words




# in this file




# www.EasyCodeBook.com




file_name = 

input

(

"Enter file name:"

)

file1 = 

open

(file_name, 

"r"

)

d = 

dict

() 
  


print

(

"\n File Contents are:\n"

)



for

 line 

in

 file1:
    

print

(line, end=

''

)
    line = line.strip() 
  
    line = line.lower() 
    words = line.split(

" "

) 
  
    

for

 word 

in

 words: 
        

if

 word 

in

 d: 
            d[word] = d[word] + 

1


        

else

: 
            d[word] = 

1





print

(

"\n\nNumber of occurrences of each word in given text file is:"

)  


print

(

"\n ===============\n"

)  



for

 key 

in

 

list

(d.keys()): 
    

print

(key, 

":"

, d[key]) 

file1.close()

Python code with comments to explain the Logic of the Program: Find Occurrences of Each Word in Text File Python Program
# Python program to count 




# number of occurences / frequencies of words in a text 




# Input filename, open it in 




# read mode. display its cntents 




# count and display number of  occurrences of words




# in this file




# www.EasyCodeBook.com





# ask the user to enter filename


file_name = input(

"Enter file name:"

)



# open file for reading


file1 = open(file_name, 

"r"

)

  


# we will use a dictionary named d


d = dict() 
  
print(

"\n File Contents are:\n"

)



# Use a for loop to read each line one by one from the given text file




# display file contents line by line, too




for

 line 

in

 file1:
    print(line, end=

''

)
    

# use strip() method for removing any leading spaces and newline character 


    line = line.strip() 
  
    

# we use lower() method to convert this line into lowercase 


    line = line.lower() 
  
    

# we use split() method to split the line into words (use space as separator)


    

# all words are in words list now


    words = line.split(

" "

) 
  
    

# we wll loop through every word in the line 


    

for

 word 

in

 words: 
        

#  we check if the word is already in dictionary 


        

if

 word 

in

 d: 
            

# if word already present, increment count of word by 1 


            d[word] = d[word] + 

1


        

else

: 
            

# else if word not present in dictionary then add it to dictionary and now count =1 


            d[word] = 

1



print(

"\n\nNumber of occurrences of each word in file is:"

)  
print(

"\n ===============\n"

)  


# use the for loop to show evey entry of dictionary




# this will print number of occurrences of each word in




# the given text file





for

 key 

in

 list(d.keys()): 
    print(key, 

":"

, d[key]) 



# close the file


file1.close()

Please, note that we are assuming that a text file with name "example.txt" with 3 lines of text is present on D drive before execution of this program.
this is example text file
this is line 2
this is last line
Sample Run:
Output:
Enter file name:d://example.txt
File Contents are:
this is example text file
this is line 2
this is last line
Number of occurrences of each word in file is:
===============
this : 3
is : 3
example : 1
text : 1
file : 1
line : 2
2 : 1
last : 1
You will also like the following Python File Programs:
How this File Program works?
Python program to count the number of occurences / frequencies of words in a text file
Input filename,
Open it in read mode.
Display its cntents
Count and display number of occurrences of words in this file
We will use a dictionary named d d = dict()
Use a for loop to read each line one by one from the given text file
Display file contents line by line, too
Use strip() method for removing any leading spaces and newline character
We use lower() method to convert this line into lowercase
We use split() method to split the line into words (use space as separator)
All words are in words list now
We will loop through every word in the line
We check if the word is already in dictionary
If word already present, increment count of word by 1
Else if word not present in dictionary then add it to dictionary and now count =1
Use the for loop to show evey entry of dictionary
This will print number of occurrences of each word in the given text file
Close the file.
7,660 total views, 1 views today