Topic: Count Words in Each Line of Text File Python Program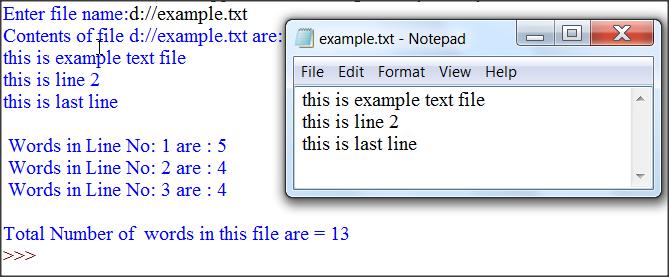 # Python program to count 




# number of words in each line of a text  file separately




# Input filename, open it in 




# read mode. display its cntents 




# count and display number of  words




# www.EasyCodeBook.com





file_name

 

=

 

input(

"Enter file name:"

)





file1

 

=

 

open(file_name,

 

"r"

)





word_count

 

=

 

0




i

 

=

 

0




str1

 

=

 

""




print(

"Contents of file "

 

+

 

file_name

 

+

 

" are:"

)





# display and count number of  words in each line of text file




for

 

line

 

in

 

file1:


    

i+=

1


    

print(line,

 

end=

''

)


    

words_in_line

 

=

 

len(line.split())


    

str1

 

=

 

str1

 

+

 

"Words in Line No: "

 

+

 

str(i)

 

+

 

" are : "

 

+

 

str(words_in_line)+

"\n"


    

word_count+=words_in_line


    


print(

'\n\n '

 

+

 

str1)

    


print(

'\n\nTotal Number of  words in this file are = '

 

+

 

str(word_count))





file1.close()



Output:
Enter file name:d://example.txt
Contents of file d://example.txt are:
this is example text file
this is line 2
this is last line
Words in Line No: 1 are : 5
Words in Line No: 2 are : 4
Words in Line No: 3 are : 4
Total Number of words in this file are = 13
You will also like the following Python File Programs:
How This Python File Program Works?
Count Words in Each Line of Text File
First of all the user will input a file name.
Open this text file in Read mode.
Use for loop to read the text file one line at a time.
Use split() method to get words in each line
Find the number of words in each line using len() function
Display number of words in the current line with line number.
Move to the next line.
Repeat for all lines in the text file.
13,072 total views, 13 views today