Convert Kilometers to Meters
This programming exercise is a basic C program. It simply converts km into meters. The user of the program will provide input and press Enter during execution of the program.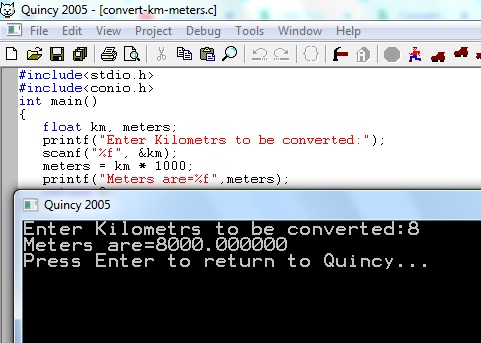 Here is a description of different C language statements used in this program.
Kilometers to meters conversion C program
Basic C language program template
This program uses Pre processor Directives like "include" to include required header files.
This C program uses Variable declaration statements
It uses printf() function to display message to user for entering kilometers as input.
This program uses assignment statement to calculate formula of converting kilometers into meters.
printf() function to show the result in meters.
#include<stdio.h>

int main()
{
float km, meters;
printf("Enter Kilometrs to be converted:");
scanf("%f", &km);
meters = km * 1000;
printf("Meters are=%f",meters);
return 0;
}
1,205 total views, 10 views today